5 Myths About Payroll Services That Need To Die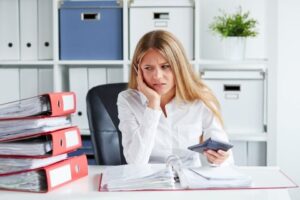 Starting a business isn't easy.
It takes a brave soul and a creative mind to deal with all the challenges of building your own company from the ground up. Business owners must wear multiple hats every day, from Chief Marketing Officer to Head Of Human Resources.
Once businesses are thinking about hiring their first couple of employees, we recommend investing in our payroll services for small business. Why? Because if they don't, they end up believing the payroll myths we've listed below, and they end up feeling stressed and frustrated instead of confident and successful.
At Remote Quality Bookkeeping we don't want you to be stressed, which is why these myths need to die.
1. Payroll Has To Be Hard
This is the first and worst myth. Many small business owners are overwhelmed by the mere idea of wrangling payroll for several different employees, and they allow this fear to prevent their business from growing as quickly as it could. Payroll doesn't have to be hard; in fact it doesn't even have to be something you worry about at all. Our remote payroll services for small business takes this task off of your plate, while seamlessly integrating with your current accounting system.
2. You Have To Be A Big Business To Qualify
In case you haven't realized this by now, all businesses need payroll services even if they only have one or two employees. This is because payroll and labor laws are always changing, and you have to change with them, in a timely manner, if you want to stay on the right side of the law. Investing in payroll services for small business while you're still small ensures that you can be compliant right from the start.
3. Outsourcing Payroll Services Is Extremely Expensive
For a small business, every expense has to be examined under a microscope. When you're trying to grow, there's no such thing as extra money. However, you have to look at payroll services for small business as an investment, just like marketing and new fixtures for your waiting room. At Remote Quality Bookkeeping, we strive to make it possible for all businesses to outsource their payroll. That's why we offer comprehensive payroll packages as well as a la care services. With us you can pay for only what you need, and get the flexibility to grow over time.
4. All Payroll Services Are The Same
Anyone can claim to provide online payroll services, but actions speak louder than words. Take your time to compare payroll services for small business before signing a contract. Keep in mind that what works for a fellow entrepreneur might not work for you. Make sure they offer free quotes, seamless integration with your bookkeeping system, secure uploads, and demonstrations of how to use bookkeeping tools properly.
5. Employees Don't Care About Payroll Services
This is a terrible myth. Most small businesses just assume that employees want their paycheck, and they don't care where it comes from or how it's delivered. This couldn't be further from the truth. A handwritten check gives the impression that you're flying by the seat of your pants, whereas a direct deposit makes employees feel like they're working for a company that's well organized and funded.
Want to learn more about how payroll services can help your small business grow and thrive? Contact RQB today!
Our Experts Are Ready
Book your free demo today to learn how a virtual bookkeeper can save you time and money for your business.