For ShelfGenie franchise owner, plug-and-play option resonated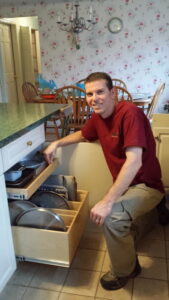 During the average work day in the United States, a new franchise business opens its doors every eight minutes, according to an infographic unveiled earlier this year by mycorporation.com. That's about 300 franchise openings each week across the country, many of them by first-time franchise owners.
Embarking on a new career as a franchise owner offers compelling potential benefits and genuine excitement for an entrepreneur, but it also presents some notable challenges.
Craig Simon understood one such challenge as soon as he signed the documents to open a ShelfGenie franchise in Pittsburgh, Pa., in 2012. While Simon had graduated from a business school, his professional focus was never on accounting, and he recognized that bookkeeping would not be his strong suit in launching a home shelving business. He also knew that ShelfGenie – like many franchises – has an internal portal system that communicates with each franchise's bookkeeper.
In hearing about the experiences of other ShelfGenie franchisees, he learned that one solution would be to outsource his bookkeeping. A large percentage of ShelfGenie owners, he found, used Remote Quality Bookkeeping and it was sensible to him to follow suit, which he did just a month after he opened his operation.
"What moved the needle for me is that they know the ShelfGenie business cold," Simon said. "I didn't have to train a bookkeeper on our system. It was plug-and-play."
Around 50 percent of ShelfGenie's franchise owners use RQB, which has worked directly with ShelfGenie's management and IT department to ensure that it's up-to-date on how the company's accounting system integrates with QuickBooks. That knowledge provides peace of mind to newcomers who partner with RQB, like Simon, who do not have to devote time and energy toward learning the nuances of bookkeeping.
"With so much to be concerned with in starting a new business, it was such a luxury to not have to worry about bookkeeping," he said. "It is money well spent, that's really what it all comes down to."
It has also allowed Simon to make sure his time is well spent. Now that he is more than three years in and hitting his stride as a franchise owner – "year one, your hair is on fire, and year two, you're just starting to figure things out," Simon says – his eye is on growth. That includes adding more employees and contractors to handle consultations and installations, so that he can take full advantage of the increasing demand for ShelfGenie's services in and around Pittsburgh.
"To not have to do books allows me to spend time on building my business," he said. "I think we're headed in the right direction, and right now, the focus is on growing my team and generating additional revenue."
Simon, who previously worked as an IT project manager, said he feels fortunate that a franchise broker connected him with ShelfGenie when he was exploring his career options in 2012; it turned out to be a perfect match. Likewise, he's pleased that ShelfGenie and RQB have developed a perfect partnership that allows franchise owners to focus on what's most important: providing shelving solutions to their customers.
Click here to learn more about RQB's solutions for franchise owners and to inquire about a free quote.
Our Experts Are Ready
Book your free demo today to learn how a virtual bookkeeper can save you time and money for your business.