Types of Inventory Management Reports
With many businesses ready to embrace the new year and a fresh start, now is the perfect time to organize and streamline your processes. Have you considered an efficient inventory reporting procedure? Are you in need of professional inventory reporting services? Below, we explore the basics of inventory reporting including what it is, how it works, the different types, and the benefits of regularly updating inventory reports.
Inventory Management Reports: What Is It?
Essentially, an inventory report is a summary of a retailer's existing stock, distilling details like how much stock you have, which products are selling fastest, category performance, and other information about the status and performance of inventory. There are many types of inventory reports you can use, each serving its own purpose.
What are the Different Reporting Types?
Although the concept and purpose are similar, there are eight common inventory reporting types. Explore them below!
#1. Multi-Stock Location Report
A multi-stock location inventory report allows your business to track inventory across all your stock locations, warehouses, or distribution centers. With this type of inventory report, you can quickly examine the inventory quantities at each site.
Businesses that utilize a multi-stock location inventory report can better create a more efficient production process. If discovered that one location is low on inventory, you then have the option to either order more stock from your suppliers or transfer inventory from one of your nearby warehouses.
#2. Inventory On-Hand Report
For those who want to know more than just how much inventory lies in a warehouse, consider an inventory on-hand report. As a more extensive report, your total inventory numbers include goods waiting to be sold in addition to goods already allocated to outgoing customers' orders.
With this type of report, managers and business owners alike can accurately gauge the disparity between allocated stock and available stock. As a result, your company will experience fewer stock-outs and more sales opportunities.
#3. Inventory Change Report
When the time comes to analyze your inventory outflow, it's not enough to only know how many products are enter in and exit from your warehouses. Alternatively, understanding the "why" behind your flow of inventory is paramount to boosting warehousing and marketing efficiencies.
With that purpose in mind, an inventory change report tracks the "how" and "why" behind inventory depletion. Therefore, assigning specific reasons to justify stock transfers or adjustments will make future analysis easier, allow a better insight of stock movements, and provide a thorough understanding of inventory waste.
#4. Stock-Reorder Report
A stock re-order report indicates when a company needs to replenish product inventory running out of stock. Typically, re-order points are unique to each product due to their factored delivery lead times, sales, and safety stock.
Furthermore, a product supplied at multiple stock locations may have different re-order points depending on the location of the warehouse and the individual sales processed there. Therefore, a stock re-order report for each stock location helps companies understand what products to replenish, avoiding low-stock and out-of-stock scenarios.
#5. Purchase Order Report
With current and sold inventory well managed with the use of the above inventory reports, it is also critical to track and manage incoming inventory. With the help of a purchase order report, your company can effectively track incoming stock when it is scheduled to arrive at your warehouse.
Furthermore, this inventory report allows for you to appropriately take account of incoming products, efficiently navigate order fulfillment, and prevent over-ordering to create a more streamlined supply chain.
#6. Inventory Pick List Report for Warehousing & Fulfillment
An inventory pick list report contains a list of items for your operations team to take from inventory. Generally, this helps fulfill daily customer orders or fulfill the supply to the production of finished goods. Therefore, utilizing this report type enables greater accuracy with inventory on-hand numbers by considering inventory dedicated to orders or production.
#7. Inventory Packing List for Warehousing & Fulfillment
Inventory packing lists also referred to as production reports, feature the total quantity of each item required to fulfill each customer's order. This inventory report allows warehouse staff to consider each

customer's orders and how the finished goods inventory should get assigned separately for each customer. As a result, you can quickly verify that each customer order contains the right products in the correct quantities.
#8. Sales Reports for Analysis
Although indirectly correlated to inventory, sales reports help companies analyze overall performance referencing the quantity and speed of goods sold. Ultimately, business success is dependent on revenue brought by product sales to customers.
To generate an effective sales report, categorize each sales bracket by periods of time for various products at different customer levels. Through these different insights, you can uncover trends and identify your top customers, creating a more accurate forecast inventory for the seasons ahead.
How Often Do You Generate Inventory Reports?
Although all industries and businesses conform to their own preferences and practices, our three inventory reporting schedule suggestions are the following:
At weekly or monthly intervals: Helps leverage POS, e-commerce storefront, and inventory management.
Before and after busy selling seasons: Helps forecast future sales metrics and reflect on what adjustments to make for subsequent busy seasons.
Based on your business operations: Tailored for companies that order inventory daily, monthly, or at a different cadence.
Why is Inventory Reporting Important?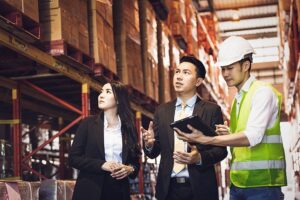 Most importantly, inventory reporting allows a business to monitor their most valuable—and expensive—asset. Especially in consumer industries, such as retail or food, it is paramount to rely on inventory to generate both revenue and profit. Without such, your business has nothing left to sell and in turn, no way to grow.
This is important in providing valuable insight, providing both macro and micro metrics into the business. For example, an inventory report can help companies detect and monitor inventory shrinkage, creating new opportunities to prevent theft, SKU integrity errors, and any areas of internal theft. Furthermore, it reveals actionable strategies to generate more revenue across multiple departments.
What Are the Benefits of Inventory Reporting?
With the proper reporting solutions in place, your business will enjoy many benefits including the following:
Increased sales: Businesses who actively manage their inventory report a 2-10% increase in sales.
Heightened transparency: Companies are more aware of when items are received, picked, packed, shipped, kitted, manufactured when to order more, and when a SKU is either over-stocked or under-stocked.
Shorter lead times: Businesses that actively manage inventory report a 50% reduction in lead times.
Reduced costs: Effective inventory reporting helps decrease the occurrence of both inventory write-offs and generates lower inventory holding costs. Carrying extra inventory can be very costly for your firm.
Improved delivery performance: Real-time inventory updates improve the flow of goods to customers.
Bolstered employee efficiency: Good inventory management solutions save time. Less time spent on managing inventory bolsters greater productivity for both you and your consumers.
Reinforcing accurate planning: Stay steps ahead of the competition by always having the right number of products in stock by making decisions based on inventory trends.
Fewer out-of-stock incidents: Businesses with active inventory management report a 10-25% decrease in stock-outs.
Heightened customer loyalty: Improve your accuracy and efficiency and your customers will love you for it. In turn, they will trust your company over a competitor to fulfill their consumer needs.
Improved inventory turnover: Optimize the value of your goods and increase inventory turnover by keeping fewer slow-moving products on hand, while increasing your stock levels on profitable goods.
How Do You Create an Inventory Report?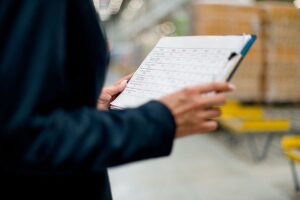 Before creating an inventory, assess what you need the outcome to be. Which key performance indicators (KPIs) does your organization want to track? With so many metrics and inventory report types to consider, understanding your intent keeps your reporting process both focused and actionable.
Next, consider the technology available to your company. Do you have a reliable inventory management software to speed up the process, avoid manual entry errors, and sync data across multiple platforms and tools? In fact, 15% of inventory distortion issues are due to incompatible software systems that won't integrate with one another.
With designated KPIs to track and a reliable inventory system, follow the three steps below to creating an inventory report.
#1. Build Your List of Items
To best jumpstart your inventory report, export from your POS, inventory management software, or other database that has the information and put it in your report template. Be sure to include basic information such as how many units you have on hand, where they are located, which variants you have, serial and SKU numbers, price, and other basic information. The information you include will largely depend on your report's intent.
#2. Establish Your Timeframe
With all your information in tow, the next important step is to establish your timeline and only pull metric information within that same timeframe. Otherwise, you will create mismatched data and generate discrepancies in the report, revealing inaccurate data.
Establishing your timeline is again relative to the intent of your inventory report. You might use a year's worth of data or create a drill down of hourly statistics within a few days. However, if you need to compare different periods or quarters, make certain that you compare correlating data to one another. For example, when comparing sales numbers for June to sales reported in November, it will most likely reveal radically different data due to the holiday season.
#3. Run Your Reports
Finally, select the report type you wish to generate and allow the system to perform the calculations. Do not forget to review the data and verify multiple times that there are no incongruencies!
Bookkeeping Reporting Made Easy with MyRQB
The key to business success is to focus on what you do best and delegate the rest. By outsourcing your bookkeeping tasks, your business can receive important and accurate financial reports in a timely manner.
We are the associates you have been looking for. At Remote Quality Bookkeeping, we are dedicated to helping you obtain the necessary information to make effective business and revenue decisions, especially during the COVID-19 outbreak.
Our team of specialists provides cost-effective, efficient, and accurate bookkeeping and accounting services for small businesses and franchises throughout the United States. At MyRQB, we take care of all the back-end work and provide you with instant access to financial statements so you can always know where your business stands.
We partner with countless industries, servicing fourteen Franchise Brands including UPS Stores, US Lawns, Shelf Genie, Elements Massage, and Edible Arrangements to name a few.
Are you ready to begin implementing your outsourced bookkeeping strategies today? Contact us today at (866) 567-4258 or via our online contact form with any questions or to learn more about our bookkeeping services!