Benefits of Outsourcing bookkeeping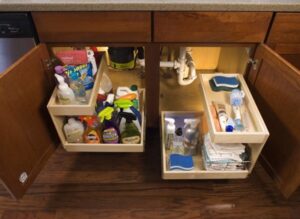 In his 30 years of experience as an executive in the hospitality industry, Marc Levin had certainly been exposed to the financial side of the corporate world, even if he was rarely consumed with crunching the numbers on a day-to-day-basis. You could say he knew just enough about bookkeeping and accounting to be dangerous.
So when he made a career change this year, taking over a small business in his native Chicago, Levin decided it would be safest to keep it that way.
"I know how to read a financial statement, that's no problem at all, but I never had to create the ledger accounts for the financial statements," said Levin, who took ownership of an existing ShelfGenie franchise on September 1. "I could train myself on overseeing the books, but then I'd be wasting precious time when I could be focusing on my team, customers and generating revenue."
Levin opted to outsource with Remote Quality Bookkeeping before he even took over his business. His interest in outsourcing the bookkeeping function reflects the typical challenges of new entrepreneurs. Small Business Trends recently published an article about the top three challenges facing small business owners, and number one is finances. "Small business owners monitor bank balances, accounts receivables, and expenses, but most don't have a basic financial forecasting and reporting/monitoring structure in place," the article says.
For some, that structure might include retaining a full- or part-time bookkeeper. For others, like Levin, it means taking the bookkeeping burden outside the company, which often leads to savings in cost and time.
Levin has too small a sample size in running his ShelfGenie business to determine exactly what those savings will look like. But he knows that the onboarding process is a critical phase in which to establish trust with an outside partner; after all, an outsourced bookkeeping partner has a complete view of a company's finances. Levin already feels he made the right decision, for several reasons that likely resonate with others in the daunting category of newcomers to small business ownership:
Accessibility: Levin has peppered members of the RQB team with onboarding questions, and they have walked him through the entire process.

"It's important to me to know the nuts and bolts so i understand it, even if I'm not doing it all," he says.
Customer service: As a veteran of the hotel, restaurant and casino industries, Levin understands and appreciates the value of excellent customer service. He said that his decision to sign on with RQB was not only based on a reasonable price, but also on the consistent quality of service he recognized from his initial conversations with the team.
Time savings: "There are more important things I can do with my time," Levin says. "I can learn QuickBooks, but to do so would take away from mentoring my team, focusing on client service and generating revenue. That's more important if I can get a qualified bookkeeper, which I have."
Even with such a positive early view of his relationship with RQB, Levin expects to maintain a hands-on approach to his business's financial picture, at least to a certain degree, as he ventures deeper into franchise ownership.
That being said, adds Levin, "As a new business owner I couldn't be happier."
How do you know if outsourced bookkeeping services are right for you? We can help you determine whether it's time to find a trusted partner. Click here for more.
Our Experts Are Ready
Book your free demo today to learn how a virtual bookkeeper can save you time and money for your business.