Bookkeeper vs Accountant: What's The Difference?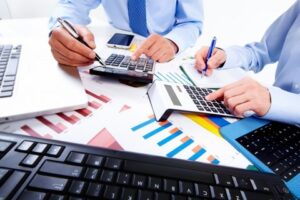 Many people start their first business with stars in their eyes. They want to make something new, be creative, and change lives. These are all wonderful goals, full of ideals and promise, but no matter how good your intentions are when starting a business, it will all be for nothing without two important ingredients: cash flow and accountability.
In order to manage cash flow and establish good accountability, you need solid accounting skills which, sadly, most new entrepreneurs are sorely lacking. In fact, many small business owners cannot distinguish the difference between a bookkeeper vs accountant. To the surprise of many, these terms aren't actually interchangeable!
As premier providers of online accounting services, Remote Quality Bookkeeping™ is well versed in the differences between these two vital financial roles in any small business. Whether you're trying to handle all accounting and bookkeeping yourself, or you're starting to see that life would be much easier with our online accounting services, it's good for you to know the difference as well!
Keep reading to learn more about why no small business should be without bookkeeping and accounting services.
Bookkeeper vs Accountant: Exploring the Differences
Responsibilities of a Small Business Bookkeeper
When you hear the title "bookkeeper" think "everyday financials." A bookkeeper is responsible for tracking:
Purchases
Receipts
Sales
Payments
Whether they use a bookkeeping program like Quickbooks or Peachtree, or just a good old fashion ledger, the bookkeeper's ultimate goal is to reconcile a trial balance, which means the final total of debits and credits match. For some business owners that sounds like fun, and for others that sounds like a nightmare. If you're one of the latter, be sure to check out our online bookkeeping services.
"Bookkeeping is designed to generate data about the activities of an organization," said D'Arcy Becker, CPA and chairwoman of the Department of Accounting and Finance at the University of Wisconsin, told Business News Daily. "Accounting is designed to turn data into information."
So now let's talk about talk about what accountants do on a daily basis, and how our online accounting services can take this chore of your plate as well.
Responsibilities of a Small Business Accountant
When examining the bookkeeper vs accountant debacle, the most common difference lies in their responsibilities. Where bookkeepers are concerned with the nitty gritty, recording the minutia of daily income and expenses, accountants are tasked with thinking about the big picture to help ensure growth and/or solve financial problems.
Accountants are responsible for:
Verifying financial data recorded by the bookkeeper
Generating reports about cash flow
Analyzing accounts
Performing audits
Preparing tax returns, income statements and balance sheets
"Accountants look at the big picture," wrote John Tracy in his book, "Accounting for Dummies" (For Dummies, 5th edition, 2013). "[They] step and back and say, 'We handle a lot of rebates, we handle a lot of coupons — how should we record these transactions? Do I record just the net amount of the sale or do I record the gross sale amount, too?' Once the accountant decides how to handle these transactions, the bookkeeper carries them out."
MyRQB Can Help
Now that you know a little bit more about the difference between accounting and bookkeeping services, how confident do you feel that you can carry out both of these tasks on your own?
Chances are you'd rather spend your time developing new products, caring for your customers, and improving the appearance of your retail or office space. So why not leave the bookkeeping and accounting services up to us?
Contact RQB to learn more about how our online accounting services can save you both time and money!
Our Experts Are Ready
Book your free demo today to learn how a virtual bookkeeper can save you time and money for your business.